The DS-82 form also known as 'U.S. Passport Renewal Application for Eligible Individuals' is the form required to be filled for renewing passport. But before you decide to mail your renewal application, you must verify if you are eligible to do so. If not, you will be required to apply for the renewal of passport in person. The following are the criteria you must meet to be able to apply to renew the passport through mail.
Your U.S passport can only be renewed if ALL of the following conditions are met:
You still have your U.S. Passport in your possession.
Your previous U.S. Passport was issued when you were age 16 or over.
Your previous U.S. Passport was issued no more than 15 years ago.
Your current U.S. Passport is undamaged
Your passport was issued in your current name or you are able to provide evidence for your name change.
Sometimes U.S Passport becomes lost or stolen and the individual may not even realize that it is missing. In this case, you will be unable to use the adult passport renewal services to have the passport replaced. Instead, you will have to follow the procedure for replacing a lost or stolen passport. 
Can I print passport application form online?
You can print the PDF version of the DS-82 form online from the State.gov website. You can simply click on this link for the passports renewing form to open. Upon clicking on this link, the passport application form will open in another tab. You can complete the form online and print it or have it saved offline and finish your application form to renew your passport later.
How to fill up the application form?
Choose the regular passport book (standard) option if you do not wish to pay an additional cost. If you are a frequent traveler and require a larger passport book, you may select the option for a large passport book (non-standard) but will be charged to pay extra.
The first part of the form requires you to fill in your personal information including your name, date of birth, gender, place of birth, contact information and most importantly your mailing address. You will be required to provide a Social Security Number. If you do not have a Social Security Number, you will be required to hand in a statement which will have to be signed and dated. This statement must contain the phrase, "I declare under penalty of perjury under the laws of the United States of America that the following is true and correct: I have never been issued a Social Security Number by the Social Security Administration."
You will also be provided space to attach your passport photo with instructions for the size of your passport picture. Next to it, you have to give details regarding your current passport book or passport card which has to be renewed. The last section on this page is related to a name change situation. It only applies to you if you have ever changed your name.
The next page requires some information related to your physical appearance including height, hair color, and eye color. You will also have to state your occupation, employer or school, contact numbers, permanent address, emergency contact, and travel plans.
In order to get your passport processing in time, you must make sure that you have completed the entire form and are not leaving out anything. Double-check the information you have already filled out again to avoid making any mistakes.
What is the processing time to renew your passport?
This depends on the service you have chosen. If you have decided to apply for a routine passport renewal service, the processing time is from 6-8 weeks (30-40 business days). The processing time can get extended if there is an increase in passport application submissions during peak travel times. This is usually when the holiday season approaches and people plan for vacations.
If an expedited passport renewal service has been used, the processing time is from 2-3 weeks (10-15 business days) and in some cases, it can be expedited within 24 hours. With this option, 24 Hour Passport and Visas charges an additional fee in order to speed up the processing of your application. Check the price here.
What are the documents required for passport renewal?
Along with your completed application form DS-82, the following is the list of documents you will be required to have prepared before you start your application process:
Two passport photos (2″ x 2″ with a white background). A photo service is available at our office.
Proof of Identity (optional).
Please call for a Letter of Authorization.
Travel itinerary.
24 Hour Passport & Visas: Online Order Receipt (If you chose expedited service option for your passport with 24 Hour Passport and Visas).
Money order or check to the US Department of State for $170.00.
What is the cost of renewing a passport through the mail?
Following is the cost of routine passport services and it does not apply to expedited passport service. Check the price for expedited passport service here.
Passport Book: $110
Passport Card: $30
Passport Book and Card: $140
The fee should be included as a personal check or money order payable to the US Department of State. Also, include your full name and date of birth on the front of the check or money order. Cash is not accepted as a payment method through the mail.
Following is the way how you must fill your check to "U.S. Department of State":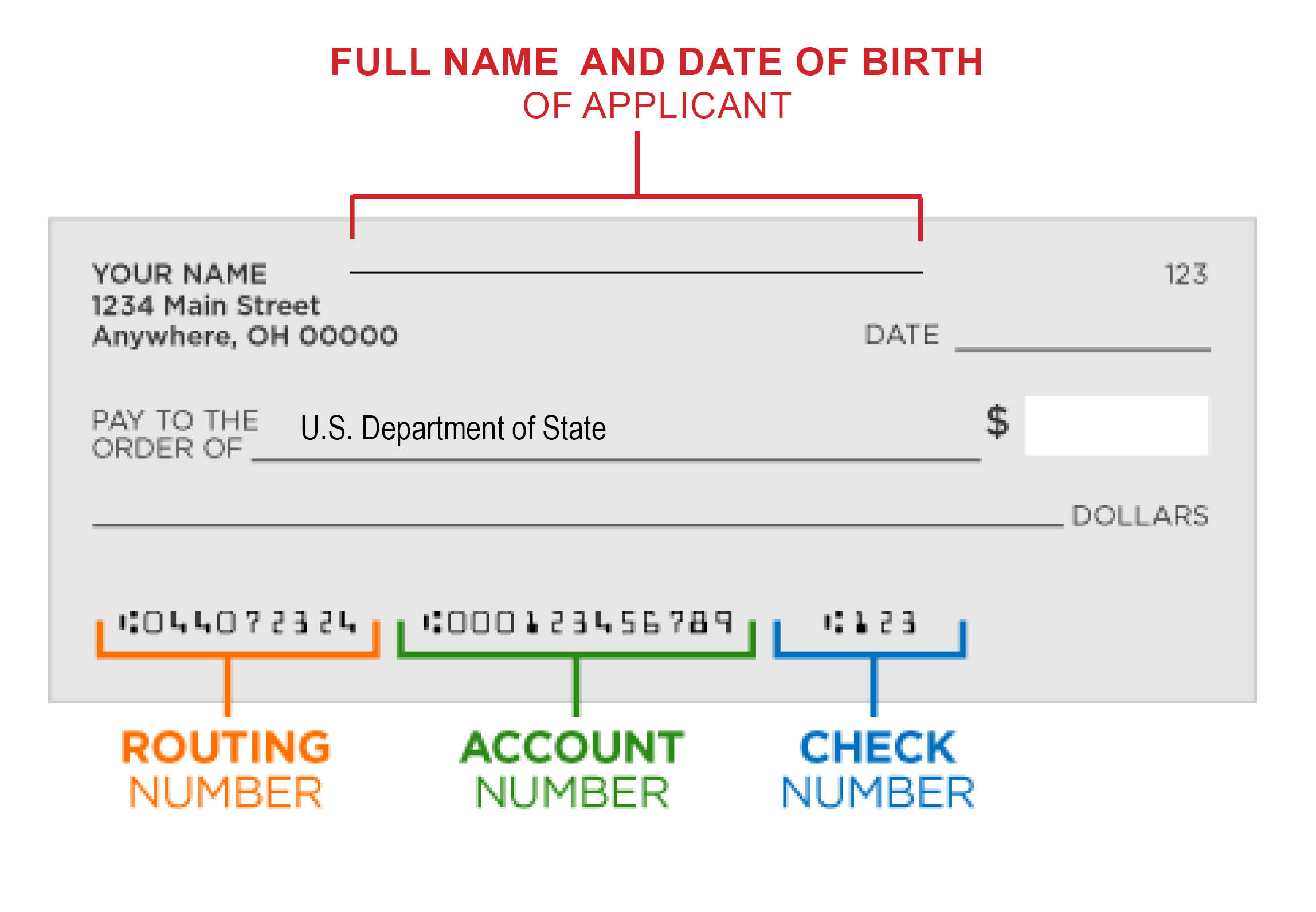 After you have done everything mentioned above, you are ready to send your renewal application into the mail for passport acceptance at the center. You should make sure that a large envelope that can fit the application documents without having to be fold is used. It should include your completed application, your most recent passport, name change document (if it applies to you), passport photo and payment to the US Department of State. You will be required to send it to one of the following address:
Routine Service ( If you live in California, Florida, Illinois, Minnesota, New York or Texas)
National Passport Processing Center of Passport Offices
Post Office Box 640155
Irving, TX 75064-0155
Routine Service (If you live in other states rather than mentioned above)
National Passport Processing Centerof of Passport Offices
Post Office Box 90155
Philadelphia, PA 19190-0155
For expedited services, please contact 24 Hour Passport and Visas passport agency for more details.
24 Hour Passport and Visas provide the following expedited services:
Each passport service has its own requirement, therefore click on the link suited to you for more information. 
Our step by step detailed approach will guide you through the application process. Browse through 24 Hour Passport and Visas website for more information or contact our nearest regional office, who will be able to assist you with your queries. 
 24 Hour Passport and Visas is a private, non-government passport and visa expediting service providing company. The fees included with our services are to expedite the procedures and are in addition to the government fees. If you are in a situation that does not require expedited services you can apply directly through the US Department of State, and avoid paying our additional courier fees.
24 Hour Passport & Visas Offices